Is your finished basement area heated and cooled? If so, our basement hopper is made specifically to address your needs. Our basement hopper window is the perfect solution for any temperature-regulated home! We've created the hopper window specifically for finished basements.
Compared to other window types, the easy-to-use hopper provides a ventilation option, that works perfectly with outside window wells or other small space areas. They also provide a great aesthetic and add light to small spaces.
What is a basement hopper window?
A basement hopper window opens inward from the top of the sash on a horizontal axis. By opening inward to ventilate the opened sash does not interfere with the window well. This basement window can be made to fit the short height requirement found in many basement window openings. When closed and locked it forms a tight seal to resist water penetration.
Our hopper is designed specifically for the basement area. And it's economical so you don't have to spend a fortune to insulate your basement living space.
Keep your finished basement living area comfortable and save on energy cost with new replacement basement hooper windows from The Window Source.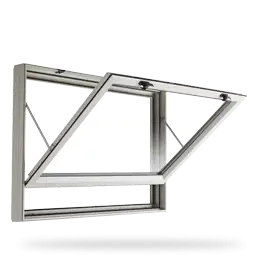 Basement Hopper Features
Triple-barrier weather-stripping provides superior protection in inclement weather.
Energy-efficient design allows you to save on costs and keep your home comfortable.
Tilts in for ventilation and cleaning.
Provides superior strength and durability against wind and weather.
Call Us Today For A Free Estimate
See What Our Customers Are Saying About Us
"I wish I could give more stars on the review! The experience of purchasing from The Window Source could not have gone any better! Such great professionalism in the work team, the installers worked amazing and were polite, words can't Express how great everything turned out."
– Arturo Acosta, 5 Star Review via Google
"We needed all our windows in our house replaced due to a catastrophic hail storm. Our windows in the front of the house were boarded up due to the storm. Window Source was so helpful to come by and measure, order and replace our windows. They did a very professional job and made sure we were satisfied with the work. I would recommend them to anyone who wants a reasonable price to replace windows and a quick professional installation."
– Ruth Nastase, 5 Star Review via Google
"Sandy with the Window source by far has the best customer service, she kept me informed and far exceeded our expectations when finding us the best price that fit our needs. I don't ever write reviews but was so happy with the experience I felt the need to share. We love our new windows and would highly recommend The Window Source to anybody looking to replace their windows!"
– Nikki Conway, 5 Star Review via Google
"I've been remodeling and flipping homes for several years now and believe me when I say this, "Window Source of West Texas is the BEST and EASIEST company to deal with!" In the past I've had horrible experiences with contractors showing up late, not showing up at all, leaving a mess, making a mess, doing mediocre work & the list goes on.

Abraham Loewen has been the same technician on 2 of my job sites and he has further exceeded my expectations every time. Not only did he pick up after he was done, he went back and cleaned every window plus frame individually. The time it took him to finish was a few hours for 10+ windows.

I'm extremely happy with the service/work/quality they provide. Huge thanks to Vanessa the sales lady that helped us choose our windows and provide us a quote. Sandy was super nice and scheduled everything to go as smooth as possible. I would highly recommend using them. I will refuse to use anyone else!"
– Jesus Padilla, 5 Star Review via Google
"The Window Source of West TX is an EXCELLENT place with a top quality product, quick & meticulous install, and exceptional customer service! They gave us the best pricing from all previous estimates we've had in the past. We had 15 windows replaced and wrapped and the difference it's made to my home is unbelievable. They not only look amazing, but it feels amazing inside as well. I actually got cold for the first time during the summer. They made the entire process from start to finish so easy and I would highly recommend them to anyone! One happy customer for sure."
– Nikki Villanueva, recommends via Facebook