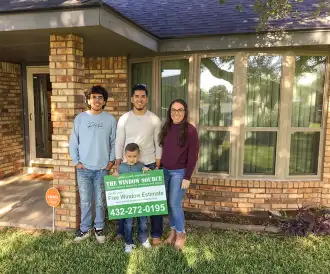 "It's beginning to look a lot like Christmas…"
No really, for the Alvarado family, they can finally get a great view of all the colorful sights of the season – looking out of their brand new replacement windows! Built in 1985, their old windows were in some serious need of an upgrade, and there was no time better than right before the holiday season to ensure their home was looking its best for holiday company.
Before
Their old windows were aluminum and installed in their brick home, a combination that is not always the most energy efficient. Additionally, as you can see, the framing was slightly worn and weathered which wasn't doing any favors to this gorgeous 1980's brick home.
After
After some careful guidance from our sales representative Vanessa, the Alvarado family went with 20 single hung windows and a single bow window, all with no grids. To make sure everything was aesthetically pleasing, the windows were "clay" in color on the interior and exterior.
How gorgeous is this brick? It was important to our team that we advised the Alvarado family with our expert opinion on color matching to enhance the overall curb appeal of the home.
We rolled in with our installation crew with a full exterior makeover kit:
Once everything was settled on, we sent our trustworthy and super friendly installer Abe out to the home to get started! All together, he installed:
– 20 single hung replacement windows
– 1 bow window
The job was completely in 2 days and the job site was left in pristine condition.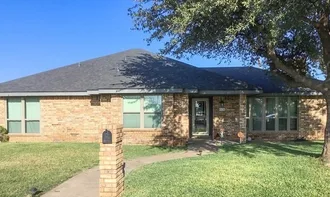 Before & After
Thank you to the Alvarado family for making The Window Source of West Texas part of your home! We are looking forward to driving past this holiday season to see those gorgeous replacement windows wrapping with colorful twinkle lights.
If it's time to have your windows replaced this holiday season, there is only one place to call – The Window Source of West Texas, the #1 local window replacement company. Give us a call today at 432-465-3030 to set up your stress-free, no obligation estimate.
And in case we don't chat with you before then, Happy Thanksgiving!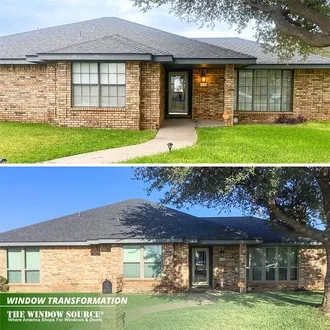 Schedule your FREE estimate for your home update, and learn more about all of the products and styles we have to offer. Follow us on Facebook and Instagram to see all our before and after photos, as well as what projects we are currently working on. Have a question you need answered now? Chat with a representative by clicking the chatbox on the bottom right corner.
Ready to get started?
Schedule your estimate today – call us at