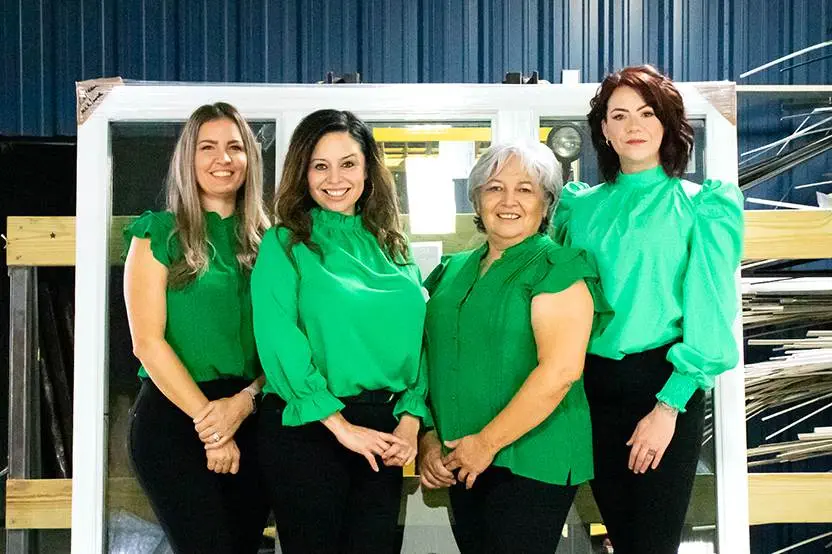 A: So, first of all, the appointment is scheduled—we're really happy to accommodate the customer's schedule. Then, really it's just a matter of meeting with them, going through the house together—figuring out different ideas, and discussing the project. You know, collaborating on what we like to do and what they're looking for, for the look that they want to achieve in the home.
Then we typically discuss the options for the glass and show them some displays and samples that show them how to keep the heat out, insulate the interior, sound transfer, and stuff like that.
It's a very no-pressure—really just a conversation more than anything else. We're happy to share our expertise and just come up with a good finished product and provide the estimate to the customer.
Usually, if it's not too big of a project, we can provide the estimate to them at the appointment. But, otherwise, we usually have it that same night.
I understand that it can sometimes be a fearful process for some people. Maybe they're just a little bit nervous about having someone come out and do a hard sell. But, that is absolutely not what we're about.
We really just want to provide information and help our customers. We have long-term relationships with customers because we become like friends. So, that's how we like to do our business at The Window Source.
Looking For Replacement Windows In Midland? You Should Be.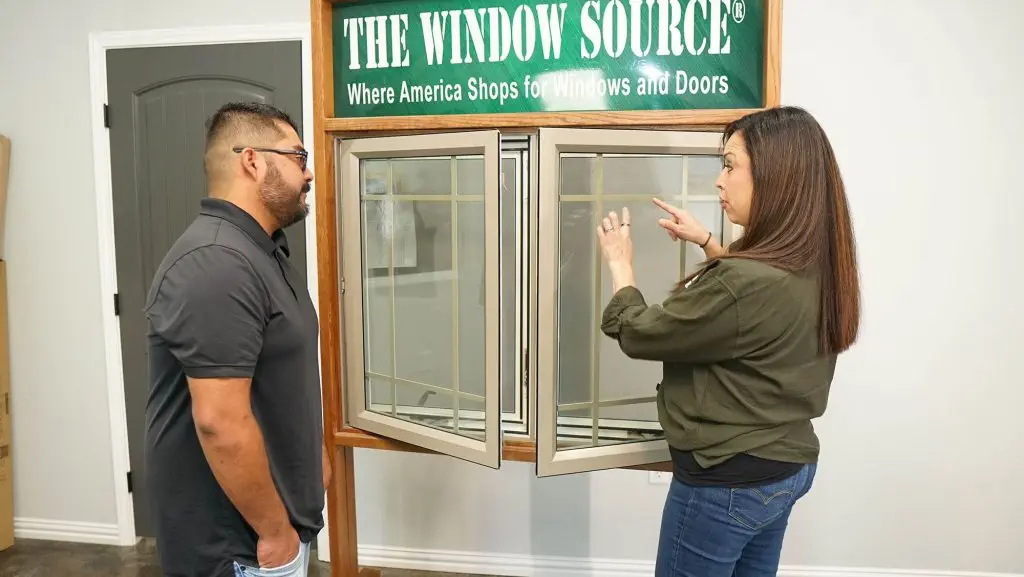 Just watch any daytime TV show and you'll see at least one commercial for replacement windows in Midland. The question is, should you be in the market for those new windows? Well, let's take a quick survey and find out:
Do you have drafty single-pane windows?
Was your home just built within the last 10 years?
If you live in a home over 20 years old, does it have the original windows?
Do you notice your AC costs rising substantially?
If you answered yes to any of the above questions, then it's very likely that you should be shopping for replacement windows in Midland. Of course, the only surefire way to find out is with an easy, no-pressure consultation from The Window Source West Texas.
Yes, if you have old drafty windows then they are like an invisible thief—robbing you in the form of high utility bills. However, what about a brand new home, surely those windows should be good right? Surprisingly, unless you paid to upgrade the windows, those windows are not good at all. Replacement windows in Midland from The Window Source outperform them on every front.
When builders build new homes, they do so with the least expensive materials that meet code. This means cheap, single-pane windows with thin aluminum frames. Aluminum is horrible for energy efficiency, and single pane glass allows your home to heat up like a greenhouse.
Don't think that's not reason enough to be in the market for replacement windows in Midland? Let's break down how much those cheap windows are robbing from you.
The Heist By The Numbers
45% — The percentage of your utility bill that comes from heating your home. The Department of Energy states that this is the largest expense in most average size homes.
$675 — The average cost of using natural gas to heat your home in the colder months, typically late October thru early March. Over half of Texas households use natural gas to heat their home. This year might be slightly higher given unusually cold weather patterns and our desert environment.
$1078 — The average annual cost of heating with electricity which accounts for about one-third of homes.
How Cheap Windows In Midland Fleece You
Your drafty or cheap builder windows didn't just take your money overnight from you. It can be a long process that often goes undetected or overlooked. We tend to forget that windows, like any other part of our house, need maintenance and eventually must be replaced with something better. There are many reasons why windows get drafty but here are some of the most common:
Advanced Wear and Tear
Even though windows that were once high-quality can last a long time, eventually normal wear and tear do begin to affect their efficiency. As your windows are used often the weatherstripping can be damaged or just eventually wear down. Even the smallest section of worn weatherstripping can lead to a cold spot in your house.
Aged Window Or Frame
Let's say you don't even use your windows very much; the window components, especially the frame and pane can become damaged with age. Wood frames can crack or warp, and panes can end up with leaks between them. Cheap windows over twenty years old should be checked by a professional for compromised efficiency due to age.
Extreme Temperature Shifts
98 degrees at 3 pm, 68 degrees at 10 pm. Yes, that is Texas weather for you and if your home has the cheap windows that came with it you could be feeling it in your wallet. Cheaper windows in Midland homes contract greatly due to the cheaper materials used to make them low-cost. This contraction causes major leaks, costing you more in the long run.
Shoddy Installation
High-quality windows in Midland are only as good as the installer who puts them in your home for you. If your windows were not installed by a reputable professional, there could be a compromised seal or leaking pane. Always have windows installed by a licensed and insured professional.
Protect Your Wallet
Now that you know how cheap windows in Midland can become money-hungry thieves, the next logical step is to stop that from happening. The best way to do this is by installing energy-efficient replacement windows from The Window Source. Our Energy Star certified windows help you save your money and give you peace of mind. Still not convinced? Just take a look at some of the other advantages:
Increase Curb Appeal—New replacement windows from The Window Source also boost the curbside view of your home. With both contemporary and modern styles as well as trim styles to suit any taste; your home will look a lot better and its value will go up considerably if you choose to sell at some point.
Easy To Maintain — Most of the modern replacement windows in Midland are now designed to be very low maintenance. For example, vinyl windows don't need to be repainted year after year. Also, the hardware used in modern windows is typically made from stainless steel or zinc so it is not subject to rust during the life of the window.
Increased Home Value — One quick way to boost equity in your home is by making improvements that increase your home's value. According to the National Association of Realtors, adding replacement windows to your home is one of the best home improvement options, garnering an average of over 75% of the cost of your windows once you sell your home.
Lower Utility Bills — This benefit is obvious given the main reason you are losing money with your old windows is higher utility bills. Newer Energy Star approved replacement windows will drastically reduce your utility costs over time and may even be partially deductible on your tax return.
Upgrade Your Windows In Midland With The Window Source
If you are ready to get tough on those old or cheap windows and stop the steal, you need The Window Source.
Schedule your FREE estimate for your home update, and learn more about all of the products and styles we have to offer. Follow us on Facebook and Instagram to see all our before and after photos, as well as what projects we are currently working on. Have a question you need answered now? Chat with a representative by clicking the chatbox on the bottom right corner.
Ready to get started?
Schedule your estimate today – call us at